Facelifts have been among us for decades, but medical innovations and technology mean that today, we have several types of facelifts accessible. Today's facelifts range from non-surgical facelifts to minimally invasive, to full surgical options. Your priorities in terms of facelift scars, recovery time, and facelift results will help guide the decision for which type of facelift may be best for you.
which type of facelift is best for you
Facelift surgery is individualized to a patient's needs, and a cosmetic surgeon will adjust his or her methods accordingly.learn which type of facelift is best for you below.
Mini-Facelift
People who has a mild degree of jowling and sagging skin are mostly suitable for a mini-facelift. This is a less invasive method that allows a cosmetic surgeon to tighten deep facial tissues through shorter incisions, generally located along the hairline above each ear and/or in the natural creases surrounding the ear. Through these incisions, structural tissues around the cheeks are lifted and tightened to correct jowling , correct the jawline, and rejuvenate a "tired" appearance.
According to the case, a mini-facelift may be performed using local anesthesia with sedation or general anesthesia; your cosmetic surgeon will suggest the best choice for your individual needs. A mini-facelift can help you address undesirable signs of aging before they become too noticeable, putting off the need for more great surgery for many years.
Standard Facelift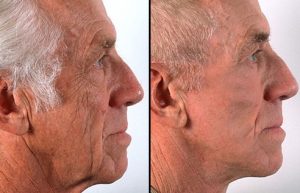 This type of facelift will more fully mark medium to advanced aging around the mid-face and neck. While the surgery is larger than those for a mini-facelift, and thus more recovery time is needed, the results are more significant.
Through incisions settled just behind the hairline, starting near the temples, and around the front of the ear, unseen in the natural folds, a cosmetic surgeon can reposition the deeper tissues beneath the skin and wipe out excess skin to smooth creases, remove jowling and sagging skin under the chin, and replace a naturally youthful contour to the face and neck.